Climate-smart food is not more expensive – quite the opposite!
From the Swedish Food Agency's survey "Hur ser beslutsfattare på den offentliga måltiden?" (How do decision-makers view the public sector meal?), it emerged that many decision-makers need more support to find a balance between the economy and climate work. The question is whether it is possible to achieve the climate goals without increasing the budget?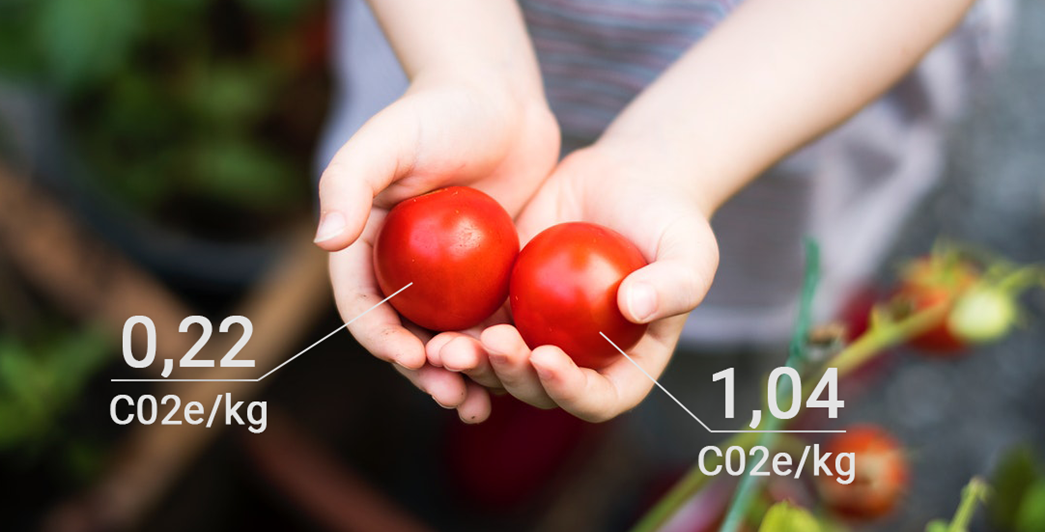 Despite the fact that Agenda 2030, according to the UN, is the most important priority in the fight for reduced carbon emissions, the public sector meal is not at the top of the municipalities' agenda. Food accounts for 1/3 of all climate impact, which e.g. is more than all travel. With their 3 million public sector meals served every day, municipalities and regions have a great responsibility resting on their shoulders.
In 2018, the Swedish Food Agency reported that only about every other municipality in Sweden monitors its meal operations using key figures. Hardly one in three municipalities follows up on the climate impact of meals, which is worrying. Climate-smart food is not more expensive, quite the opposite in fact. With the right tools, it is easy to see how different ingredients and recipes affect both the climate and the economy. The road there is digitalisation of the entire meal process and purposeful analysis. In addition, every kitchen needs to work actively to put together climate-friendly menus and work actively to reduce food waste.
Does organic food always have a lower climate impact?
In Sweden's Food Strategy there is an ECO target of 60% organic by 2030, while at the same time interest and focus on locally produced food is increasing. The challenge lies in the fact that it is not possible to draw simple conclusions such as organic or locally grown is better than the other. It depends entirely on how the product is grown and transported. An organically imported apple can have a higher climate impact than a regular Swedish apple and vice versa. At the same time, organic farming says nothing about which pesticides have been used, how it supports biodiversity or which animal husbandry has been applied, which is guaranteed in organic farming.
In order to have full control over one's meal production and the impact it has, both on the climate and our health, data-based decisions are required regarding which raw materials are best for both the climate, society and the economy. Your way is to digitalise the entire meal process and then work methodically to ensure that the climate and health goals are achieved.
Can we only serve vegetarian to achieve the climate goals?
Many people think that two meat-free days per week are enough to reduce the climate impact of food, but it is not that simple. It is entirely possible to serve meat dishes with a low climate impact and there are also vegetarian dishes that have a higher climate impact. Happily, it is often the case that the recipes with a lower climate impact also have a lower cost. This means that there is room to instead spend money on more organic vegetables, support locally produced food and increase the quality of the meat that is purchased.
It's not just the protein that makes a difference
It is not only the protein that must be reviewed in order to reduce the climate impact. Rice has a high climate impact due to long transports, but dairy products also contribute to high climate emissions. By reducing these and switching to more locally grown alternatives such as wheat berry and plant-based alternatives, the climate impact can be significantly reduced without the cost needing to increase. A positive side effect is that the number of special diets decreases as more people can eat the same food. For example, anyone who is allergic to milk proteins or lactose intolerant can eat oat-based cream. Here there are big gains to be made financially, as a special diet costs about 20-30% more than a regular portion.
Reduced food waste provides more money for other things
In order to achieve the climate goals, the government has decided that food waste must be reduced by 50% by 2030. A reduction in food waste also means that food costs are drastically reduced.
In Swedish schools alone, according to the Swedish Food Agency's latest measurement 62 tonnes of food is thrown away every day. It is extremely costly to society and taxpayers. In one year, this corresponds to approximately SEK 287 million and a climate impact equivalent to 25,000 round-trip flights to Thailand. The figures indicate that food waste is greater in elderly care and healthcare, but too few are able to report food waste, so there is a lack of sufficient data. In order to gain more knowledge, it is required that more people take their responsibility for both the economy and the planet by monitoring food waste to see where the deficiencies are and take measures to reduce it.
There are many positive initiatives underway in the country to tackle this huge problem and we are seeing more and more good examples emerging. But in order to seriously achieve the required goals, comprehensive and cohesive strategies are needed in all municipalities and regions, not just individual, albeit positive initiatives.
Of course, not all food waste can be eliminated, but through active work on continuous measurement and monitoring, food waste can be reduced by around 50%. In this way, we have come a long way towards achieving the goals of Agenda 2030 while reducing costs.
The right data provides the right insights for wise decisions
It is only when the entire meal process is digitalised and all data is gathered in one and the same place that it can be used to actively work on achieving the sustainability goals as the entire meal process can be monitored and analysed down to the smallest component.
If a raw material is changed in a recipe, both the climate impact and the price change. To make the right choice for both the planet and the wallet, it must be easy to make wise choices. Therefore, it is crucial to be able to measure the climate impact for each individual ingredient, as small choices can make big differences in a dish. The right tool helps and makes it possible to follow how it makes an impact all the way from procurement, ordering and cooking until the raw material is eaten by the guest or thrown in the bin. If food is thrown away, it does no good for health or the planet. Therefore, it is necessary to find a good balance between climate impact and economy without resulting in increased food waste and hungry guests.
In order to effectively reduce food waste, measurement and monitoring are crucial. Having full control over where in the process food waste occurs. Only when we know where the shortcomings are, can we make changes.
The foodtech industry has a crucial role to play in assisting with the right technology to facilitate the work. Both for the operational work in the kitchens and for decision makers. Having the right background to be able to set goals and make well-founded decisions is crucial to success.
The role of politicians
In order for us to achieve the goals in Agenda 2030, we must act now. The meal is an area where we can quickly make a difference and do not have to wait for new technology or research. The public sector meal must be given the place it deserves on the agenda of the municipalities and regions. Everything is already served in the meal organisations but must be prioritised and used fully.
The meal process is about so much more than ensuring that the meals can be served, it is a tool to achieve the sustainability goals. There are many amazing meal heroes who fight every day for our students, the elderly and the sick. Their work is extremely important and influences, educates and inspires millions of people every day to make better and more climate-smart choices. It must be lifted, both within the meal organisation but also outside the meal in a greater sustainability perspective.
As a politician, you have an enormous responsibility in working to achieve the global sustainability goals. To do that, we must act quickly, climate change will not wait. Therefore, the public sector meal has a great impact on changing people's preferences and knowledge at all stages of life.
5 ways to act today
Prioritise the meal:
The meal must be prioritised in the Riksdag, the municipality and the region. The potential around the meal and the connection to Agenda 2030 must become a natural part.  
The right tools for monitoring:
To be able to monitor all the data that is in the meal organisations, the right tools and digital flows are required. Collect all knowledge in one place to gain full control over the entire meal process.
Requirements for monitoring:
Set measurable targets for climate impact and food waste. Monitor continuously to see where the shortcomings are so that improvement measures can be taken. It is only when we make the problems visible that improvements can be made.
Training:
That the food tastes good is a prerequisite for it not to end up in the bin. New types of education are needed to know, for example, how a broad bean or an oat-rice is best prepared. New products are constantly coming onto the market and it is important to keep up with developments.
Engage staff:
The staff must have clear guidelines to work towards and be committed in order to do a good job. Only then can they also inspire the guest and spread commitment and knowledge further. Other staff outside the kitchen must also understand the work and help to succeed.